After some coffee and breakfast, Ginny took the dogs ashore while I tried to figure out what was making the Duke overheat. I opened the engine compartments and realized... I don't know very much about engines and started to question my decision to attempt some repairs while floating in a remote state park. It looked like the v-belts were pretty loose and therefor probably weren't pushing enough water through to keep Duke cool... yep I'm sure that's it. I made some adjustments and ran him for 25 minutes at 2000 rpms with no alarms - sweet!! I jumped in the kayak and met Ginny and the dogs on the water. We spent the day hiking the island and letting the dogs swim after tennis balls.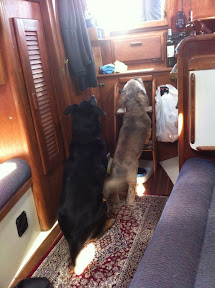 Sadie catching an afternoon nap after hiking and swimming.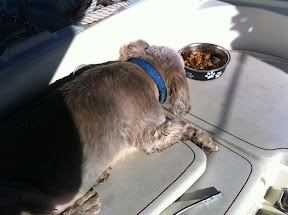 BJ was so tired he passed out before reaching his bowl!!
Ginny making dinner in our spacious galley...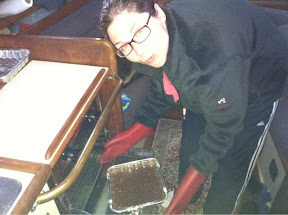 And brownies!!!
The next day we decided to head south east around Orcas Island and stop at Olga, WA for lunch and spend the night in West Bay. 20 minutes into our trip Duke taught me a valuable lesson as the engine overheating alarm sounded - it's never that easy. Crap. Out came the sails and back to Fossil Bay we drifted.
Today we tried a new tactic - Ginny was the brains armed with the engine manual, a marine diesel for dummies book and an iPad, Kevin was the muscle armed with a multitude of tools and a hodgepodge of spare parts from previous owners. Together we learned all about Duke's cooling system. We removed the raw water pump and replaced the impeller, changed both v-belts, pulled the thermostat and checked the mixing elbow. We couldn't find a problem... that's not good.... After putting Duke back together we crossed our fingers and fired him up... and he overheated.
So this is the raw water pump... Where does that impeller thingy go...
Our safe haven in Fossil Bay.
Fossil Bay
Now what. Where do we go for help. After studying the weather, currents and tides we decided to head for Bellingham or Anacortes for some mechanical help. But we'd have to leave by 0530 in order for the currents to help us. We'll make it....
- Posted using BlogPress from my iPad
Location:Sucia Island, WA