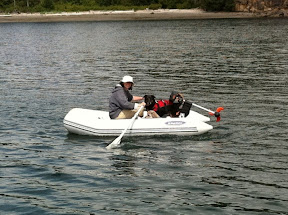 Just sit right back and you'll hear a tale, a tale of a faithful ship ... How hard would it be, we will leave Shallow Bay, motor around Sucia island to the other side and after picking up a mooring ball spend the day ashore. Easy peasy.... except nothing can be that easy. Less than 20 minutes outside of Shallow Bay the engine overheated... we spent the next 6+ hours battling between light winds, strong currents and engine alarms.
So how did all this start... after spending several days at Roche Harbor and seeing all of San Juan Island we decided to make the jump to Sucia Island. We chose Shallow Bay based on the cruising guides touting it's warm waters, spectacular sunsets and mellow atmosphere. Unfortunately we failed to heed the weather and spent a very rough night rocking and rolling through 2 - 4 foot waves while we enjoyed a very nice sunset. After sunset we took the first mates ashore for some business and to give the captains a break on solid ground for a bit. It was then that we saw the southern side of Sucia, Echo Bay - it was still as bath water. Well that's just injury to insult. As we battled waves back to Cold Feet we chalked this up to another lesson learned and some good experience.
The next morning was calm and peaceful, just as the guide books had promised but the forecast called for another round of southwesterly winds that we were not going to stick around for. So we headed out, deciding to motor around to the south side and anchor in Echo Bay. 20 minutes into our trek the engine alarms started.
It was during this 6+ hour battle that we named our engine Duke. We tried everything and were able to get him to run for a bit but never longer than 20 or so minutes at 1000 rpms. So we would use him when we had to and catch wind when we could. At then end of the night he came through just after we jibed into Fossil Bay and lost the wind, hanging on long enough to get us to a mooring ball.
- Posted using BlogPress from my iPad
Location:Sucia Island, WA