Happy 4th of July (belated but we were thinking of you). Our departure on Saturday (2 July) from Port Townsend went off without a hitch. We were tired after a long Friday (Kevin completed his 12 mile ruck that morning) but we were anxious to set sail and start the boat bum trial run. In typical fashion our GPS went out half way across the Strait of Juan de Fuca - great. Still haven't fixed it yet but we are narrowing the list of potential problems.
Our first night was in Griffin bay just off the shore of American Camp. After surfing through Cattle Pass at 10kts we anchored with no issues and settled in for an early night... though we still didn't know where to go on Sunday, we were down to 3 possibles.
Sunday morning came with good wind and a favorable current. We decided on Roche Harbor for 4th of July having read that folks book a year out for marina slips. We arrived to a packed harbor, hundreds of boats, big boats... boats so big they're not boats. We saw one with a helicopter on the back (and watched it take off and land). Anchoring was tough, we had cold feet naturally but we were able to find a spot. The fireworks were great, our bow proved to be one of the best seats.
The marina cleared out on the 5th like a baseball stadium in the 8th when the Red Sox are up by a dozen. We decided to head in for a night, pump out the head, charge the batteries and give the P-Wagon a rest. We ended up staying Tuesday and Wednesday night... seemed the most relaxing. We had a massage, took naps, toured the island by scooter car and witnessed colors up close. Every night at sunset the activity at Roche Harbor halts for colors, the nightly ritual of lowering the marina flags, complete with retreat and taps.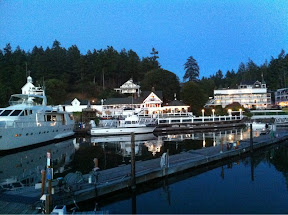 The marina's mobile pump out station.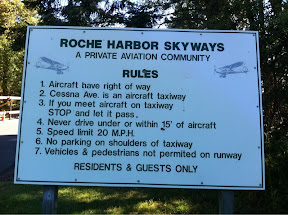 Planes have the right of way.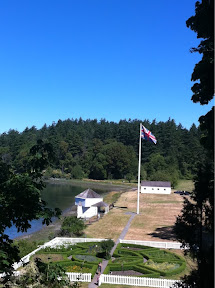 British Camp
This was a family run farm/ B&B, they had the best ice-cream sandwiches.
We saw lamas.
It's a lavender farm - 20 acres of lavender.
Ginny driving he scoot car -lookout everybody!!!!
Ginny and I are enjoying having no schedule and any schedule/route/itinerary is subject to change early and often. Like today when during mid sail we decided Sucia Island was the place to be... we'll see what happens tomorrow.
- Posted using BlogPress from my iPad
Location:Roche Harbor, WA