The return to vacation. We slept until 10:00, had coffee and pastries at a bakery in town, sampled every kind of wine we could and wandered the quaint streets for a few hours while trying to figure out the "elephant revival"???
Kevin passed on the elephant revival in favor of a nap
The water was incredibly still when we pulled into Fisherman's Bay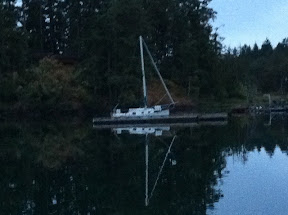 It was great - we closed out the day with a dip in the hot tub and a shower.
- Posted using BlogPress from my iPad
Location:Lopez Island, WA