No rest for the weary - we had to get up and moving early if we had any hope of fixing Duke and heading south in time to make it work on Monday. Blaine is about as far north as you can go without passports and doggie shot records.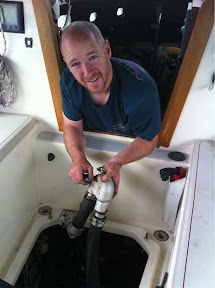 We took the same approach - Ginny the brains and Kevin the brawn. I thought we learned quite a bit on Sucia, it was a drop in the bucket compared to everything we discovered about Duke while in Blaine. This time we disassembled the head exchanger, removed the core, tested the thermostat and removed the exhaust manifold and mixing elbows.
I spent much of the day hanging upside down...
We quickly discovered that we don't have a spares kit on board and we're going to need some parts. No problem the guide books said there was maintenance facilities on site here... but no Yanmar dealer and no parts - crap.
Ginny found a dealer in Bellingham and called to enquire about parts. While on the phone, Wayne from Tri-County Diesel started troubleshooting, with his help he diagnosed our problem and gave us common spots to check. We spent the next couple of hours looking for a garage that could clean the heat exchanger, though everyone seemed to think that wasn't the problem and chipping carbon build up out of the mixing elbow and exhaust system. Wayne called back later with the gaskets and o-rings we needed on hand - we just had to get them. As it turns out he lives near Blaine and out of sheer kindness offered to deliver the parts. At 6:00 pm Wayne pulled into the Blaine Marina, we couldn't thank him enough and sent him off with our last three cold Sam Adams. It was the least we could do.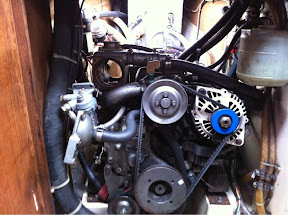 Poor Duke...
By 10:00 pm the Duke was back together, would have been sooner but I dropped a nut that took an hour to find. Testing would have to wait until morning. Cross your fingers...
Ginny finally saw a whale...
- Posted using BlogPress from my iPad
Location:Blaine, WA