Now if this week could just rush by... Well maybe not rush, it seems we have a million things to do and I keep having 'good ideas' that have to happen before Saturday. Why Saturday and why Port Townsend? Ginny and I are celebrating our first year of boat ownership with an extended trip on Cold Feet, our first. We are headed to the northern San Juan Islands (Sucia, Patos and Stuart) with the goal of spending two weeks as boat bums.
Since we bought Cold Feet everyone has told us about Sucia Island so it sounded like a good place to start.... We quickly learned that launching from Shilshole was going to leave very little 'boat bum time' ... After some careful, wine fueled, deliberations that was decided that simply unacceptable. To bad we moved the boat from Anacortes - damn. So now it's either start from somewhere else or give up Sucia. Not willing to give up on Sucia we better figure out where else we can start from, enter Port Townsend.
Now to get the boat up there. I quickly enlisted Dustin for a day on the water and some Sam Adams. Naturally there was ZERO wind - the Puget Sound was so still it looked like bath water. We met the kids and ladies Saturday night in Port Townsend for dinner, cartoons and adult beverages.
Sunday was perfect - good wind (8 kts), no waves and plenty of sun. We decided to put off heading home and took the Bishops out for a day on the water. We had a blast!! Ginny and I enjoyed sharing the sailing experience watching the kids keep score of dolphins, seals, and ducks (according to Dietrich).
Ginny and are hopefully taking off on Saturday if I can keep the good ideas at bay. We'll check in often and post a few pictures of our travels.
And for those wondering about BJ ... He's finally trying to earn back his first mate status.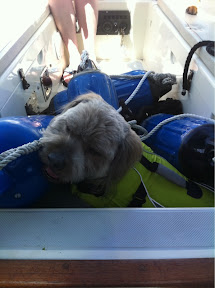 - Posted using BlogPress from my iPad
Location:Port Townsend, WA