It's been a little more than a month since we moved south from Anacortes and we both agree - as much as we miss the town of Anacortes having Cold Feet an hour from the house is AWESOME!!! We been able to go sailing several times when if the boat was in Anacortes we would have had to pass on the weekend. And now with summer finally here in the pacific northwest we are loving the fact that on a weekend we spend more time under sail than in the truck.
We spent Memorial Day weekend at Poulsbo WA. Translated as Paul's Place (says Wikipedia) it was founded by Norwegian immigrant Jorgen Eliason in the 1880s and was settled in its early years by a large number of Norwegian and other Scandinavian immigrants. Downtown maintains it's Scandinavian heritage with themed shops and restaurants. One of our favorites was the local bakery.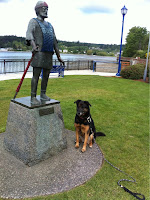 Ginny and Jorgen have coffee
No shooting today... as far as we know
In typical us fashion we had an overly aggressive itinerary for the weekend, we... I wanted to circumnavigate Bainbridge Island. So on Saturday morning we pulled the anchor and started heading south to our next destination. Naturally this put us directly into the wind and after tacking back and forth for a few hours without a lot of forward progress (we were just about half way after 5hours) we decided to head back to Poulsbo. We should have invoked rule 1 - never leave fun to have fun. At least we had a good day on the water and saw some sites.
The next weekend we needed a break so we vowed Saturday to be a day to do nothing a la the summer of George. Our Saturday plans hinged on leaving the dock early on Friday to make the 7 mile sail to Kingston. Naturally we couldn't leave early and ended up not slipping the dock lines until 7:30 pm. Not deterred we pressed onward - after all, it is summer time up here and the sun is up half the night... right?
3/4 of the way across the sound With the sun low on the horizon Ginny asked "are we going to make it?" ... "nope". Better find out if the running lights work. After the initial shock of being out on the water after nightfall it was actually really cool. We finally pulled into Kingston just after 10pm with no issues. Thankfully we had been here recently and were familiar with entering the marina.
Port of Kingston Chamber of Commerce
Saturday was all we had hoped for and more. We lazily got out of bed at 8:30 to glorious sunshine - not a cloud in sight!! We took the dogs for a walk, grabbed breakfast at a sidewalk cafe were we had coffee while watching the ferries come and go, meandered through the local farmers market then headed back to the boat. Once at the boat I promptly declared it to be nap time and passed out in the cockpit. A sunburn later Ginny, the dogs and I headed out for lunch... then another nap. We capped off the day with grilled steaks and watching the sunset.
Even Sadie was in on the Day to do nothing
On Sunday we sailed home ready for another week and started planning for our two week summer cruise.
- Posted using BlogPress from my iPad