Finally... I'm a bit overdue on entries but I've learned a valuable lesson in the process, write the post immediately because if chances are I won't get to it. Case in point I actually started this make up entry on 6 April.
So a lot has happened in the last month and a half... I spent a week in Louisiana for work, we had family visit (Ginny's mom and sister came for a week), Ginny is in the Philippines for three weeks, I've single handed three times now and I anchored for the first time.
This past weekend the dogs and I headed up early Friday and found our new mail sail cover installed!! Just in time, the old one was becoming pretty thread barren in several spots, hopefully next week we'll have the boom tent.
Once at the boat the weather was too nice for boat projects... anytime the wind is 10-15 kts and the sun is shinning you can't stay in the marina. The dogs and I had a great afternoon, sailed about 6 miles. While out on the water we saw Tiramisu. Tom blew our doors off but as he passed he invited me to the Anacortes Yacht Club for a beer later... I guess that's okay. The club was hosting their Tulip Regatta this weekend, the racing was set to start Saturday at 9:30. Cold Feet slipped her dock lines at about 10:15, we motored up and down the sideline once and then picked a spot to set the hook (our first time anchoring) and watch the race. It was pretty good, these two hulled Hobie Cats are fast!!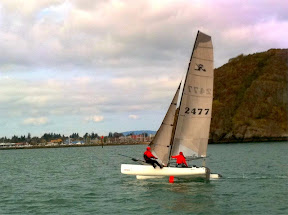 After a cup of coffee and another Red Sox loss we pulled the anchor and raised the sails. The wind started to kick up a bit and Cold Feet hit a SOG (speed over ground) of 5.7 kts, thats pretty fast for us. We even heeled her over 20 degrees a few times (I still have to get use to that).
We played tourist the weekend the family was in town. It was a full group with Ginny's mom Ruth, sister Rose, brother Lou and his girlfriend Brittany. We had a great time albeit a few long days. In Seattle we started early with an eating tour of Pike Place Market and after two other tours finished with dinner at the Space Needle. Saturday we went Grey Whale watching and hit the jackpot!! Within 10 minutes we found 5 whales. We heard them breathing, smelled their breath (that's something special), saw their backs as they broke the surface, we even saw a few spy hops and a tail fin or two. All of which I failed miserably to capture on film... what I did capture was not very convincing.
After whale watching we continued north to Anacortes for Ginny and I to show off Cold Feet and the town. After drinks aboard we had dinner at one our favorite spots - Adrift. Sunday we took Ruth and Rose out for a quick jaunt around Fidalgo bay before heading back home to pack.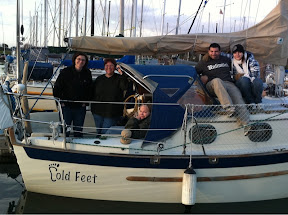 Ginny heads back home next Saturday - we can wait... especially Sadie. Our plan right now is to move Cold Feet to Shilshole Marina in Seattle possibly as early as the 23rd for a few months. We want to try something that a little closer to home, we love Anacortes but are growing tried of the 2+ hour drive each way. We are also planning a two week cruise this summer that will finally take us to Sucia Island and possibly even a Canadian port or two... we'll see.
- Posted using BlogPress from my iPad
Location:Market St,Anacortes,United States